There is a lot to get through as 1. I haven't written in so long and 2. There's been so much going on. Let's start with the news of peace on the Korean peninsula. Believe what you want but anyone thinking this has nothing to do with Trump is out of their mind. If you study politics closely (like me) then you will understand what all of the political posturing is about. It's all mind games and statesmanship. Showing an iron resolve when most of the world's media were going mad thinking the US and North Korea, were on the brink of nuclear war. Some think of it as bullying tactics but North Korea did threaten to nuke Guam, so the President returned in kind by offering swift action in retaliation. Things of this magnitude aren't taken lightly on the world stage. Neither looking to climb down from their position, but if you put it into context it's what Trump has been doing his whole life in business. It's dick measuring on the biggest scale. Who will blink first? Playing hardball. Rightly or wrongly, Trump is treating the entire USA as a business, as it's all he knows.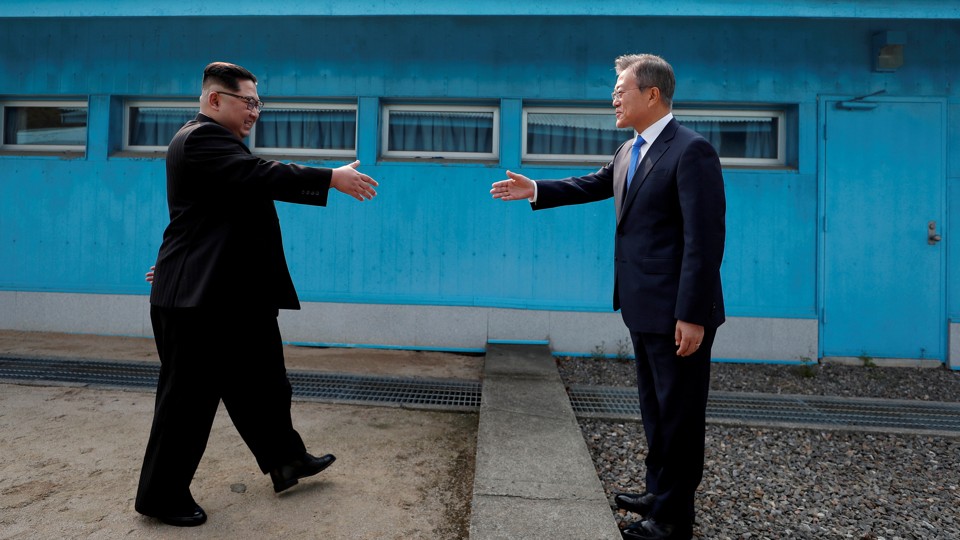 As far as I can see, the key decisions, he's done alright. I cut through all the bullshit and the edgy comments because he's an egomaniac and they feel they have to be heard, so will quite literally say anything. It's all a front. Behind closed doors, I reckon the Donald is cold and calculated and probably a whole lot more intelligent than most think. It's why he fits in so well in politics, there's so many levels. In politics and business, you need to be savvy to a degree in people manipulation, to get people to do what you want. To curry favour. You've got to be ruthless, which he's shown in countless dismissals of staff. It all adds to this overall grandiose character. Trump has called for nuclear de-escalation from North Korea since he got into power. Because of the mounted tensions between the US and North Korea, he got into a position where he could call them to the negotiating table almost as a last resort but I think it was his plan all along. All of the 'i'll destroy the little rocket man with my powerful nuclear button' was more posturing. Putting Kim in his place, so that when it came round to it, Trump said we'll keep all of the sanctions going because we can, unless you can offer something. They hadn't tested weapons for months and promised to continue throughout the entirety of the talks. They made massive steps with the South and agreed that nuclear disarmament was the way forward. Now, tell me that would have happened without the situation between Donald and Kim. Even the left's lord and saviour, Obama couldn't get them to the table and there was me thinking you all thought he was the best President of all time!
Quick history lesson, the Koreans have been split along the 38 degree parallel since 1953. No one has even come close to help re-conciliate their differences in that entire time. I'll concede that one of the stumbling blocks were the former leaders Kim Il-Sung (senior and junior) who held an iron grip on the country from 1948 through until 2011. Yet it still took 7 years to get this guy to the table. I also agree that giving Trump a Nobel peace prize might be going a little bit far, although it gives context to the sheer scale of this event in the chronology of history. This is their Berlin Wall moment, should it all work out. We just can't see it yet, as we don't have the ability to look back on this momentous occasion. He should at least be given credit for his use of soft and hard power on the international stage, the fact that people aren't giving him any credit is outrageous. They're so blinded by this hate of his personality, that they can't accept he's helped towards something good and actually doing his job that he was elected to do. Give it a break for one day and give the Donald a pat on the back. Before he comes out and says something crazy tomorrow!
Still related but moving on. There is a supposed protest to Trump's visit to the UK. Yet again, utterly abhorrent behaviour from all involved. Need I remind you all that just because you don't like someone doesn't mean you have to protest. He's a democratically elected head of state for our closest ally. He deserves respect. You may disagree with most, if not all of his policies but the American people chose him to represent them and their views on the world stage. Stop being so pig headed and accept his position. Imagine if Theresa May got booed and there was a protest if she visited the US. There'd be absolute uproar, and half of the people involved in this protest don't even like her either! You can't claim to champion living in a democracy if you can't accept the outcome of our political system. Maybe you should go and talk to some people that have lived under a dictator with no choice when it came to elections. It really is first world problems. Let's be honest, Trump was the best of a bad bunch. Hillary is a cluster fuck of a human being and would have been awful for the American people. Yet if she would have won, I would have accepted it and wouldn't protest her visit to this country. We have got to the point where we don't have anything left to fight, so the left is fighting it's own people.
This brings me onto freedom of speech. Count Dakula to be precise. When I first read about this case I literally couldn't believe what I was reading. A guy jokingly taught his pug to Nazi salute and posted it onto Youtube. Why have we suddenly had a sense of humour failure in this country? We have had some of the greatest comics in this country and they have always been funny by pushing the boundaries of what is funny and acceptable. My favourites are a lot of the jokes that end in 'too soon?'. I'll tell you where we have gone wrong and I shall use Have I Got News For You as an example. Now, I have watched and loved this programme since I was an early teen, so about 15 years ago. I'll set the scene, leftie luvvie Tony Blair was in power, he couldn't do any wrong, then he goes to war in Iraq. They absolutely ripped him and even though they weren't in power, they ripped the Tories too for good measure. Fast forward to now. Theresa May is in power and everything is Brexit this and Brexit that. Being the BBC obviously there is a massive bias and a lot of the jokes have Brexit at the butt of them. I get it, I know it gets tiresome but you know what you get if you watch something on BBC 1. However, the thing I have noticed is that any joke about Corbyn or Labour, if made at all goes down like a lead balloon. I'm wetting myself at home on the sofa but the audience has a few titters but it's like someone has died. The double standards are ridiculous, in my eyes everyone is fair game. If you're in public service or in the public eye than you run the risk of being satirised, that is how it has always worked. But it's become almost like the BBC is protecting the Labour party from scrutiny and won't have a bad word said about them. It's a sad day in the history of TV, in a supposed free country where censorship is creeping in the back door. It sets a dangerous precedent, creating a pedastool where certain people are beyond criticism or ridicule because of their political leanings. Now I can accept i'm probably to the right of centre, not far right but what is now days probably classed as 'alt-right' not that iam, that's just the newest label that anyone not on the left is given, along with racist, fascist, white supremacist, personally I can't keep up as it changes weekly or as often as they choose to change their gender, ooh right in the bollocks, if they have them left that is!
But for someone like me that enjoys satire but isn't on that side of the political spectrum can see there aren't many 'right wing' comics left. Almost like they've been weeded out by the humour police. There's a massive gap in the market but no platform to do so, channel 4 won't allow it because they're fucking bedwetters and too busy pushing through gay agendas and focusing on minorites. It only leaves ITV (terrestrial) who couldn't risk losing viewers, the whole system seems pretty wrapped up. It was refreshing that Roseanne has been brought back in America and I think something similar over here would be a huge hit. Could you imagine, a conservative minded white male as a lead character?! Can't allow that now though can we? It might upset and offend ethnic minorites because there's no diversity, liberals because they can't accept facts or anything apart from their own opinion, gays because there's no gay character involved as there always has to be in everything single programme even though they account for less than 5% of the population, yeah that's realistic. It's just constant and ongoing, i'd like to see a programme like this just to spite these offended cunts. Offence is good, it creates differing view points, debate, dialogue (although the left don't seem capable as they can't be constructive and look at both sides of an argument and resort to shouting racist as soon as they're presented with facts but hey ho).
The whole idea of free speech is to say anything freely no matter how wrong or different as long as you don't incite hatred, right? Using harsh language doesn't constitute hatred. Maybe people are confusing offence with hatred? If enough people are offended does that deem someone to be hateful? No is the answer. Maybe we should concentrate on teaching the English language to our children so that they can differentiate between the meaning of offence and hatred, because quite clearly the lines are being blurred in the current climate. Whilst we're at it, teach them how to debate and the powers of dialogue. I don't think we've been further apart in my lifetime, the left and the right. We have no common interest or shared mutual goals. No one left to defeat. All of the parties are the same now and have been for years. I'd like to see them all wiped out, Labour, Conservatives, Lib Dems. We need something new. Maybe we will see it post-brexit? Who knows? One thing is for sure, sensitivity needs to be stripped back. We used to be made of stiffer stuff. You might be offended but it doesn't mean you need to cry about it, make a joke back. Dialogue is the key. Offence is so one sided and i'm sick of it. Also here's a link to an old post about the real definitions of racist and fascist explained, as I have seen no improvement on these words so easily thrown about, lessening their meaning and skewing the perception of what a real racist or fascist is.
https://wordpress.com/post/gunnerlukey.wordpress.com/664
To end, i'd like to remind all of you cheerleaders for Labour and the socialist movement, that Nazi actually stands for National SOCIALIST German Workers' Party. How's that for changing the perception and definition of a word. Good day to you.